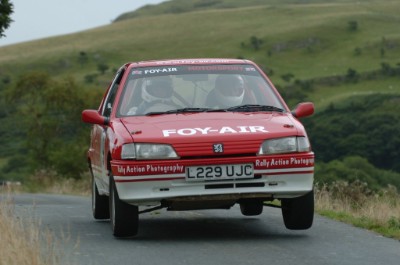 The car started out as a basic 1.1 shopping car with the basic log book safety requirements fitted to get the car out for it's and Lisa's first ever rally.
After competing at Weston Park it was obvious that the car lacked pretty much everything, Power, Braking and Handling and so after Weston we took the car apart to make some radical changes. During the months that followed the car had almost every component changed, out went the 1.1l and was replaced with a 1.4 8v, Gone were the tiny discs and callipers and in the place were fitted Saxo VTS vented discs and calipers.
The rear end was also changed and a disc braked xsi rear axle was fitted along with Bilstein Dampers, The front suspension was also replaced with coil overs.
Lisa contested various events, mainly on the Heart of England championship where she acquired some good class finishes.
We sold the car in 2008 with the intension of building Lisa something new and different, however at the moment no decisions have been made as to what, so for now all you rally drivers who used to say "there's a fault with my car" or "the navigator called it wrong" every time Lisa beat you, can relax but be warned she will be back!
Thank's for looking and please check out the 106 Photo Album and slide show.